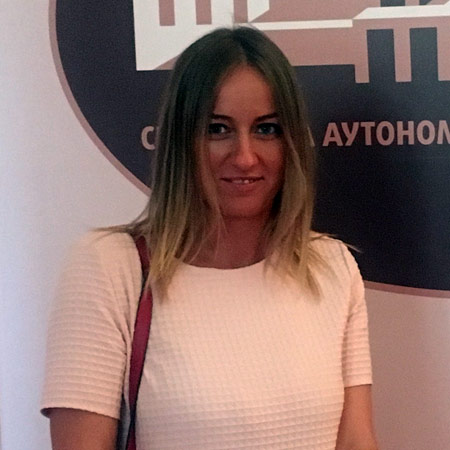 Maja Sovrlić (1987) finished the Faculty of Law, University of Belgrade (BA of Business Law). From 2015, engaged within Development Center for Youth on the position of program assistant, mainly in charge for contacts with international partners and participation in the implementation of programming and promotional tasks of the organization. In 2017, she has been elected for member of the Managing Board and coordinator of the Working group on participation. Project coordinator on previous 3 projects dealing with the topic of youth participation, implemented by the organization in period 2016-2018.
She participated in numerous trainings and seminars organized by the Tempus Foundation Serbia, Association of European Border Regions (Center for Balkans), Institute for International and Cross-border Cooperation and others.
She was organizational representative on the number of important youth gatherings: seminar "Youth and Internet governance", organized by the Council of Europe in Strasbourg (October 2017), info forum "New possibilities in cross-border cooperation" held in the Assembly of the Autonomous Province of Vojvodina, youth forum "Youth Speak" held at the University of Novi Sad (both in November 2017), Youth Summit organized by the Youth Office of the City of Belgrade, info day "Youth and Environment", organized by UNDP in Belgrade
Fluent in English and Russian.