Life Champions at Barca Academy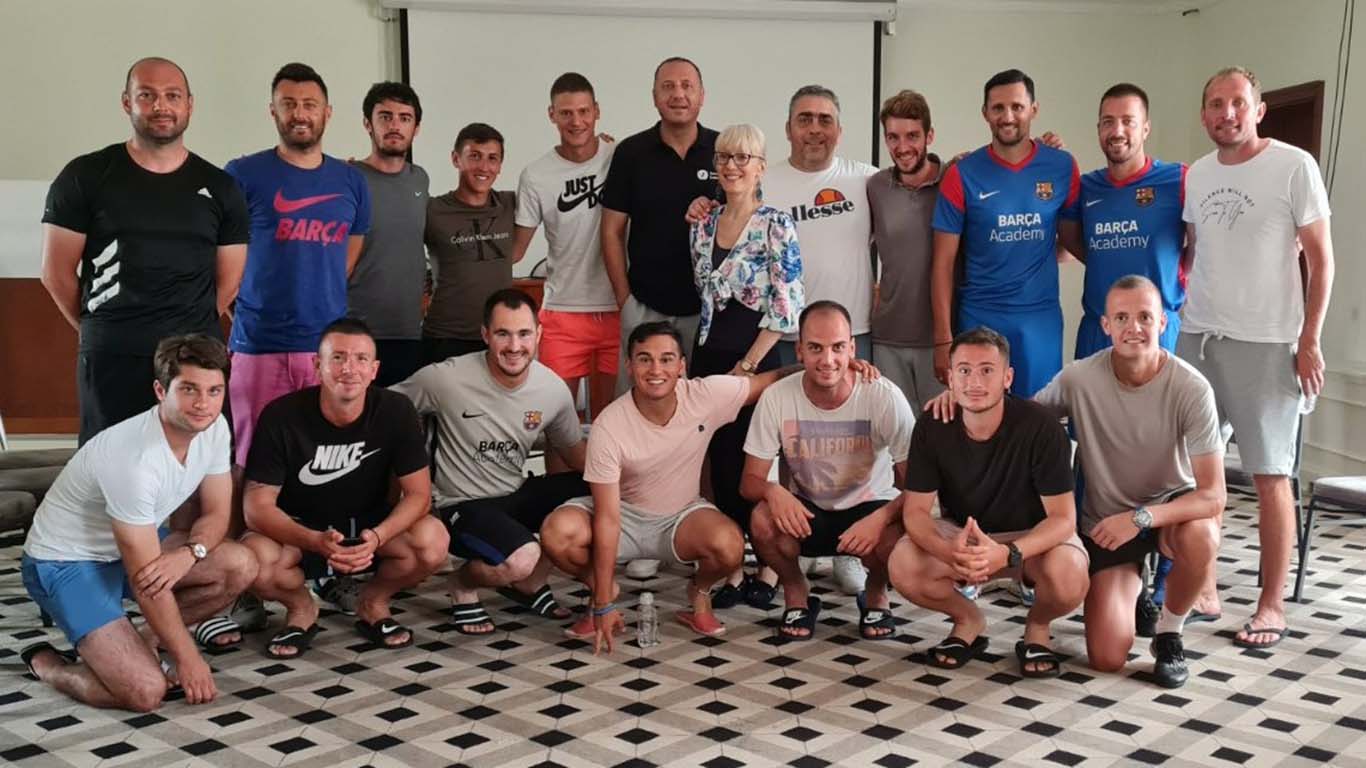 Concept of Life Champions was presented at the official FC Barcelona Barca Academy camp, which is being held in Kovilovo from June 27 to July 2. On that occasion, representatives of the Life Champions consortium held two interactive workshops, for coaches and children at the camp, presenting a program that focuses on creating life, and then sports champions.
Coaches talked about the importance of their work as educators and pedagogues, and the use of sports to promote positive social values ​​among children and youth, in order to enrich their everyday work in the future with an educational component related to numerous topics of importance for children and youth daily lives – from human rights in sport, gender equality, to the role of sport in preserving the environment or introducing healthy lifestyles.
On the other hand, the children were part of interactive workshop learning through the same values ​​such as fair play, solidarity, tolerance, equality, and we are proud that over 80 girls and boys present showed interest in the presented "learning through play".
Through this, but also the other lectures to follow, the official camp of FC Barcelona showed that it is much more than a classic sports story – although young talents aged 6 to 16 from all over Serbia, but also from other countries, have the opportunity to learn on the football technique from coaches from FC Barcelona and licensed coaches from the Balkans, an educational part of the program has been organized for them so that they could leave the camp with new knowledge, new information and acquired skills.
"We are glad that the official camp of FC Barcelona Barca Academy opened its doors this year to present the Life Champions and we are truly pleased with the feedback from both the kids and the present coaches, which is why we hope that this is only the first in a series of joint activities in regard of education of children and youth in and through sports", said Aleksandra Knežević, coordinator of the Life Champions concept, who coordinated two workshops with the members of the consortium Božo Marić and Siniša Ćerketa.
Idea of ​​Life Champions has been spreading in 2021, both at the national and regional level, receiving significant reinforcements in FC Ludogorets and FC Antalyaspor from 2022. Consortium continues to promote the concept among children and coaches, first from football as the most popular sport, and then from other sports, considering sport an important channel for transmitting important social messages and believing in its role in educating new generations. The next workshops have been agreed at the DEKI5 camp at Zlatibor mountain, and the consortium also announces the joining of large European clubs in order to further spread the idea of ​​education in and through sports.