Development Center for Youth in EMBRACE of Indiа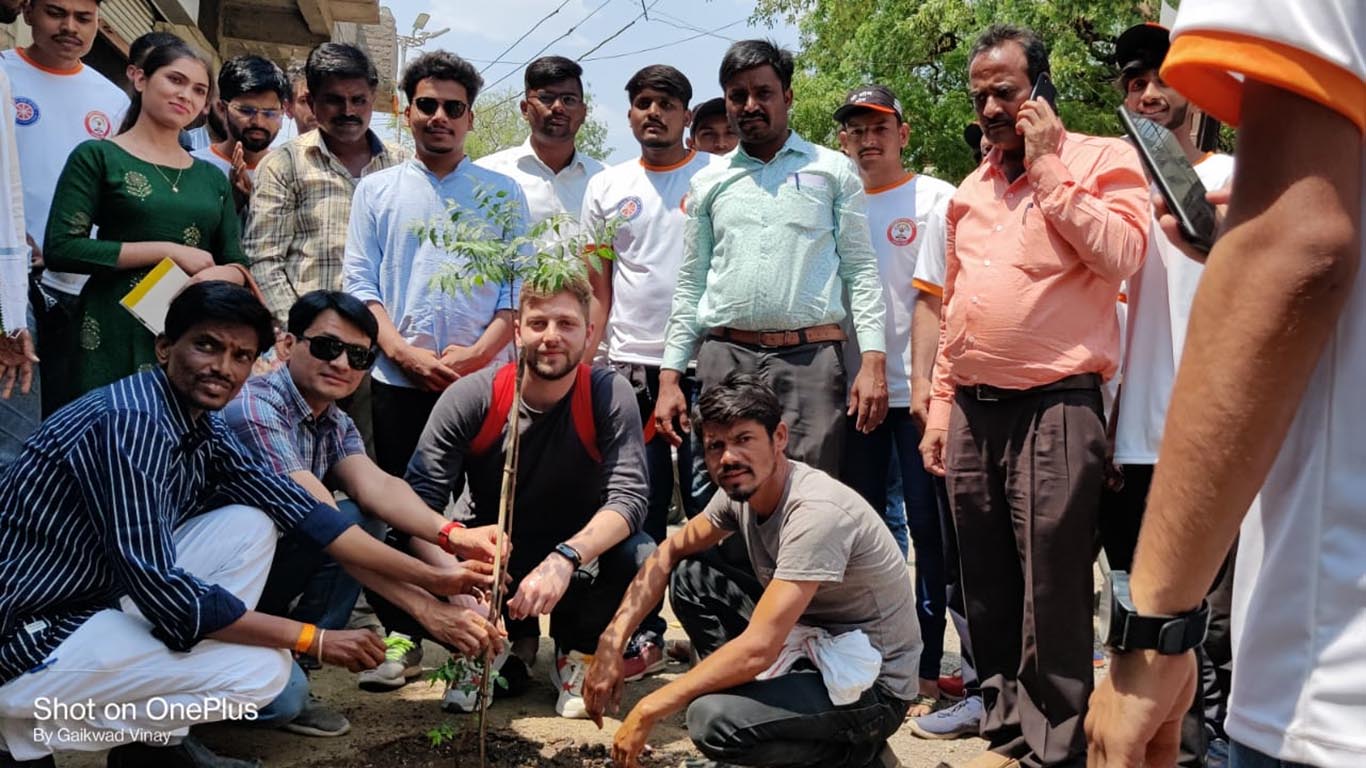 Activities of the project "Environmental Mobility By Raising Awareness on Changing our Earth – EMBRACE" continued in India, and Development Center for Youth was represented by Veljko Avramović. Study visit was being realized in the period April 24-May 2, hosted by the partner from Aurangabad DISHA International Foundation Trust.
Although it has a population of 1.2 million, Aurangabad is considered as small city in India, being part of the state of Maharashtra, which capital is Mumbai. It is located in the middle belt of the second most populous country in the world, and the trip there leaves breathless even those who only listen about it. City focus is not on young people and they get attention needed only by the good will of few individuals, so the children who gather from rural areas know how to take the opportunity and usually become top engineers in large companies, which also means leaving the city and looking for better places to live.
Therefore, the visit of guests from Europe represents a true exchange of experiences through visits to various institutions and localities, all in order to get acquainted with the tradition, life and culture of places and population, and at the same time share experiences and modalities of work in countries they are coming from on the subject of youth and ecology. Not even one visit has passed without various gifts, starting with flower necklaces, with deep respect of traditional customs and great gratitude of the hosts for the visit of foreign delegation.
Aurangabad also has its MIT, only in this case the acronym represents the Maharashtra Institute of Technology, and the host organized a tour through this and other faculties and dormitories, where young people from rural areas whose only goal is existence gather. Visits also included a presentation of the topic and objectives of the project, as well as the participating organizations. During the visit of universities in Aurangabad county, participants discussed the green planet, how to preserve it, how to prevent global warming, air pollution and the emission of harmful gases into the atmosphere, and the protection of water. Water contamination is one of the biggest problems in this city. Except for bottled water, there is no drinking water and they are fighting hard to change that.
"Close your eyes and imagine what you want to do. Do you see yourself helping yourself and others? The answer is yes. You are in good hands, DISHA in collaboration with Aurangabad universities is working to provide you with education and better life. Follow that path. Believe in yourself and do not hesitate, fight for what you see when you close your eyes", host said to those gathered.
Our representative Veljko has been an unusual phenomenon because he is fair-skinned and blonde, so he was awarded with big round of applause from students during a visit to one of the faculties, and was honored to plant a tree of life in the hosts' village, so the same now bears his name. Other guests from Europe were also more than welcomed, so the students eagerly wanted to take pictures, touch and hug representatives of the delegation.
Study visits have a special charm, because they provide an opportunity to get acquainted with the culture of different countries, traditions and way of life, but also with the sights characteristic of the area. This one in India is not different, so the partners in the EMBRACE project visited Bibi Ka Maqbara, a temple built by Mughal, the emperor of ancient Aurangabad, in honor of his wife. The temple itself is reminiscent of the Taj Mahal, so it is called a "copy" of the famous temple in tourism. Our and representatives of other organizations got well acquainted with the streets of the city whose roads are packed with motorcycles, shops of traditional Indian costumes and various stalls of fruits and vegetables, most of which are those with mango.
Project is implemented through the Erasmus + program of the European Union and coordinated by the association from Greece United Societies of Balkans, and in addition to Serbia and India, it brings together organizations from Vietnam, Peru, France and Italy. In this regard, the next activity will be held in mid-June in France, and Development Center for Youth will be represented by a three-member delegation of young activists.