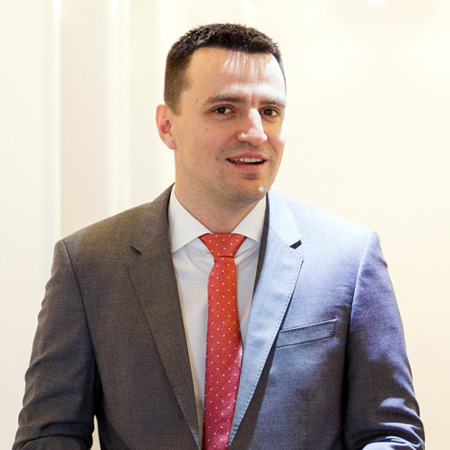 Miroslav Borovčanin (1984) graduated from the Faculty of Sport and Physical Education of the University of Easter Sarajevo, Bosnia and Herzegovina. At the same time, he is licensed as an Advanced personal fitness instructor for recreation and physical preparation of professional athletes by the Faculty of Sport and Physical Education of the University of Belgrade, as well as a Personal Trainer by the American Council for Exercise.
Currently, he is also Member and Special Adviser for Youth and Sport Development of Global Millennium Development Foundation, New York.
During his career, he worked as head coach for physical and mental preparation, working with age categories athletes that were medal winners at European championships number of time during that period. In the role of Director and Head Boxing Trainer, he was also engaged in boxing club Balkan Boxing Promotion (Belgrade, Serbia), within which he developed and implemented all training programs (recreational and professional); organized more than 40 prestigious sports events in professional boxing; regularly communicated with sponsors, sports institutions and other actors of importance in the field of sports; and as a trainer, worked with champions like Nenad Borovčanin.
In the period 2011-2013, he was cooperating with a Sport Science team of the Republic Institute for Sport and Sports Medicine, working through projects on: assessment of professional athletes and teams and implementation of results, creating short-term and long-lasting development programs.
In addition, he has influenced improvement and development of a number of new programs (founder of the National Boxing School; initiated a detailed physical examination for 50 young athletes at the "Magnatrans Champion Camp", promoting health and safety, etc.).
He is the author of the Manual for Testing in Sports (2014), which presents a guide with multiple tests and reference values for a sports assessment necessary for: determining the current physical condition of the individual, identifying specific areas for improving and assessing the predefined ability of the respondents to develop specific skills required for certain sport.
Since 2014, he is an active member of the civil society organization Development Center for Youth from Belgrade, the initiator and project leader of number of projects in the field of sports: "through Sport to Tolerance and Dialogue" (2014) and "Camp of Tolerance and Friendship" (2015), supported by the European Youth Foundation of the Council of Europe, as well as "Sports to Women – Change and Be Change" (2016), supported by ERSTE Bank. Since 2017, he is a Coordinator of the Working Group dealing with the role of sports in social development and the fight against negative phenomena in sports and through sports, as well as a member of the Managing Board of the Organization.