Coaches, what are you talking about with young football players – open dialogue as the first step towards creating life champions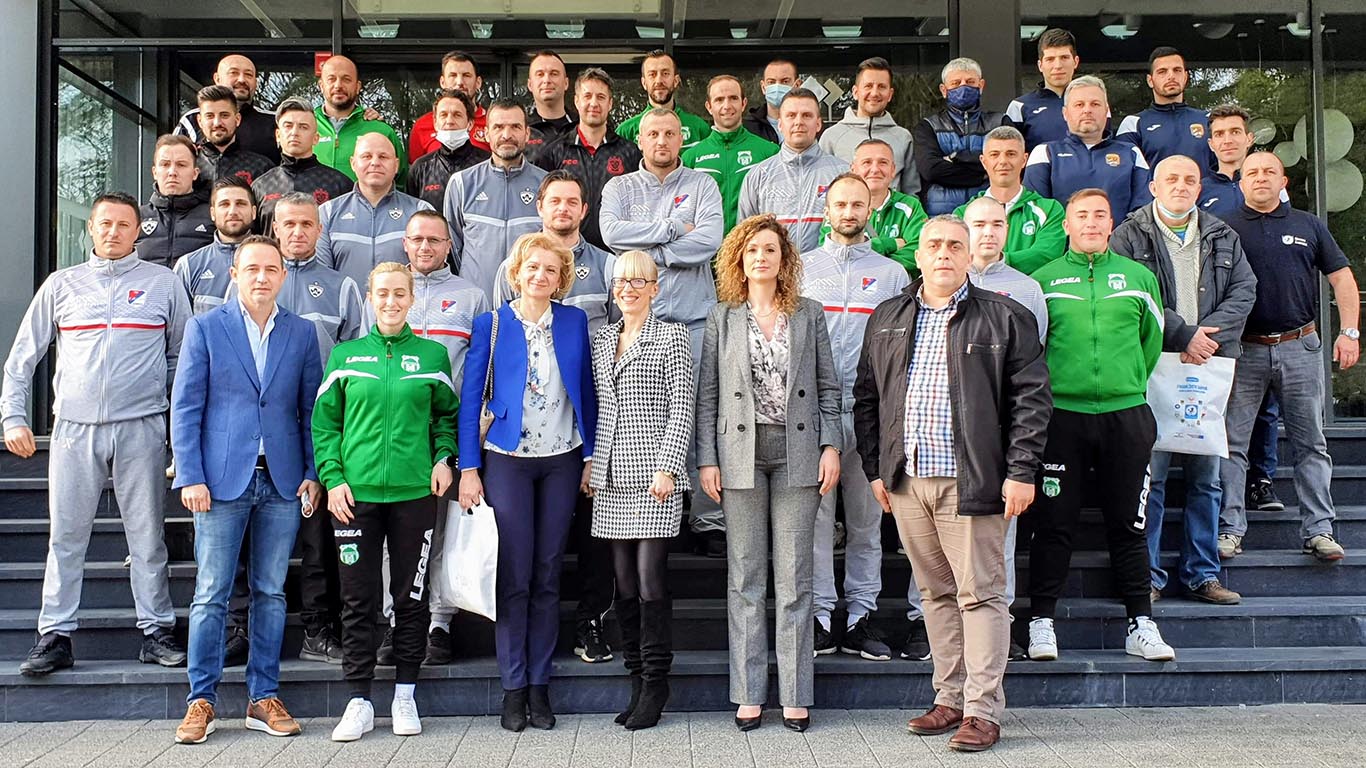 How and what do they talk about with young athletes; what topics, apart from sport ones, do they deal with during the training; do they think that sports technique is exclusively what they should be interested in on the field or see themselves as educators and an important link in education and upbringing of children and youth…We talked about all this and other life topics that we consider an integral part of sports with football coaches from the region at a two-day consultative meeting within the project "Standing Together for a Healthy and Safe Community".
Gathering is the first step towards creating life champions, and the opinion of coaches is important because they are the ones who are in direct contact with children and youth. Information and suggestions obtained during the meeting will serve as a basis for the preparation of an educational module that trainers will apply during free camps for children from the region, with the aim of setting it as a detailed model of educational work with children and youth in and through sports, both in football and other sports at all levels, from local to international.
"During the meeting, coaches have been full of useful suggestions and first-hand information, which will greatly contribute for the resulting model to be developed as a true combination of theory and practice, more precisely – as a concept based on theoretical knowledge tested in reality and adapted to it, through daily work with children and youth. We want to work together and combine knowledge and experience from different sectors to create something practical, interesting, with the clear value, all with the goal of revitalizing the educational and pedagogical role of coaches in sports. We constantly emphasize that children go to school because they have to, and to sports because they want to, and that is an important moment that we should use in order to bring them closer to other topics of importance through sports. In the first phase, we will put a special focus on development of personal and social skills, as well as on introduction of concepts such as solidarity and fair play to a greater extent in sports activities. We will play and learn through the game ", said the project coordinator Aleksandra Knežević.
Football coaches from FC Gorica, Maribor, Pelister, Grafičar and Sloga Doboj have been joined by colleagues from FC Željezničar Sarajevo, as the first club of famous football player Edin Džeko, UNICEF ambassador and one of the ambassadors of our project. Friends of this regional fairy tale are also Serbian player Aleksandar Mitrović, as well as the captain of North Macedonian national team Goran Pandev, while support was provided by many former and current football stars from the region, who shared their own experiences about the role and importance of coaches in their own upbringing and education.
Project is implemented within the Erasmus+ program of the European Union in the field of sports; its coordinator is Development Center for Youth from Belgrade, and the consortium consists of partners from sports, youth and educational sectors from Serbia, Croatia, Slovenia, North Macedonia, Bosnia and Herzegovina and Turkey.