Call for participants: Active youth – step ahead to joint changes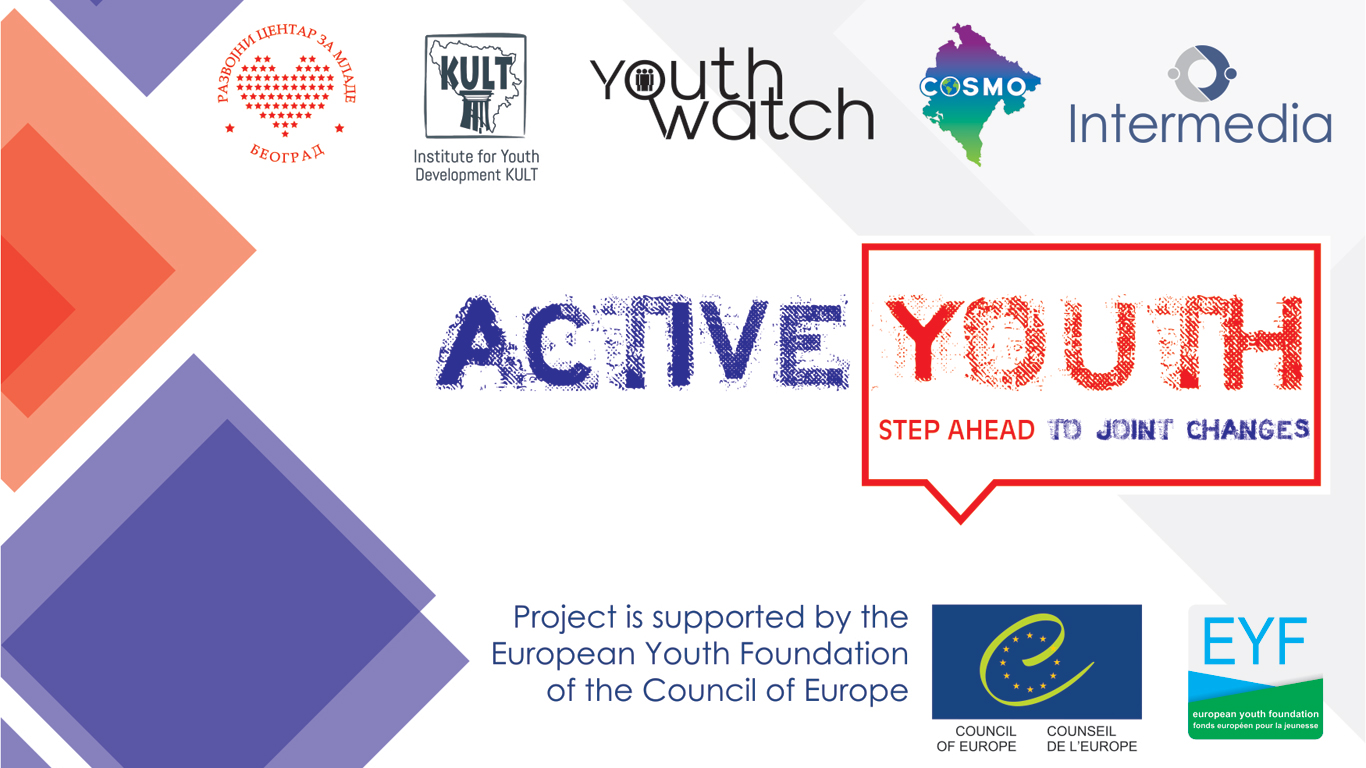 Young people must have the opportunity to lead changes within their own communities. They have to understand and defend their rights and take lead roles in a community life that will allow them and us to shape our environment according to our needs and imagination. YOUTH ACTIVISM is the main concept for advocating for the change we want to see. It is very important that young creativity, inspiration and active participation in all aspects of life tailor community and the world according to desired standards and needs.
If we want to empower changes in our communities and shape our environment for the better, we need to stimulate on spot youth activism. We need to create innovative methods that will bring back youth energy and creativity in our everyday life.
Who? Organizations from Serbia, Bosnia and Herzegovina, Montenegro and Slovakia are implementing initiative Active youth – step ahead to joint changes.
What? Training that will help participants to reinforce real youth activism and adjust it to circumstances of current momentum and developments.
For whom? Young people aged between 24 and 35 years (exceptions are possible) who are able to express in English and resident of one of 10 countries/entities involved: Serbia, Bosnia and Herzegovina, Montenegro, Croatia, Kosovo*, Macedonia, Albania, Greece, Slovak Republic and Czech Republic. Except of this you should be:
engaged and active youth worker already familiar with the basics of youth participation in its different forms and aware of its significance for the general well-being of youth
possess experience in peer learning, acting as peer educator/trainer with different groups of young people
supported by youth organization/structure (local youth office, youth information center, youth council) you represent to implement your activities during the project and once the project is over
motivated to learn, network and share with other training participants and beyond, in local community you represent
Where? Belgrade, Serbia
When? June 6-10, 2018
Costs? Organizers will cover all costs related to accommodation and food (full board and accommodation in double rooms). Organizers will provide travel refund, inviting participants to use the most economic way of transport and obtain previous approval from the organizers when making travel arrangements.
How to apply? If you are interesting in this initiative and training you can read more and apply here: link. Deadline for applying is until May 21, 2018.
Project is supported by the European Youth Foundation of the Council of Europe.
You want to ask something ? Send us an email to active.youth2018@gmail.com