Face to Face with Local Administration – peer educators in action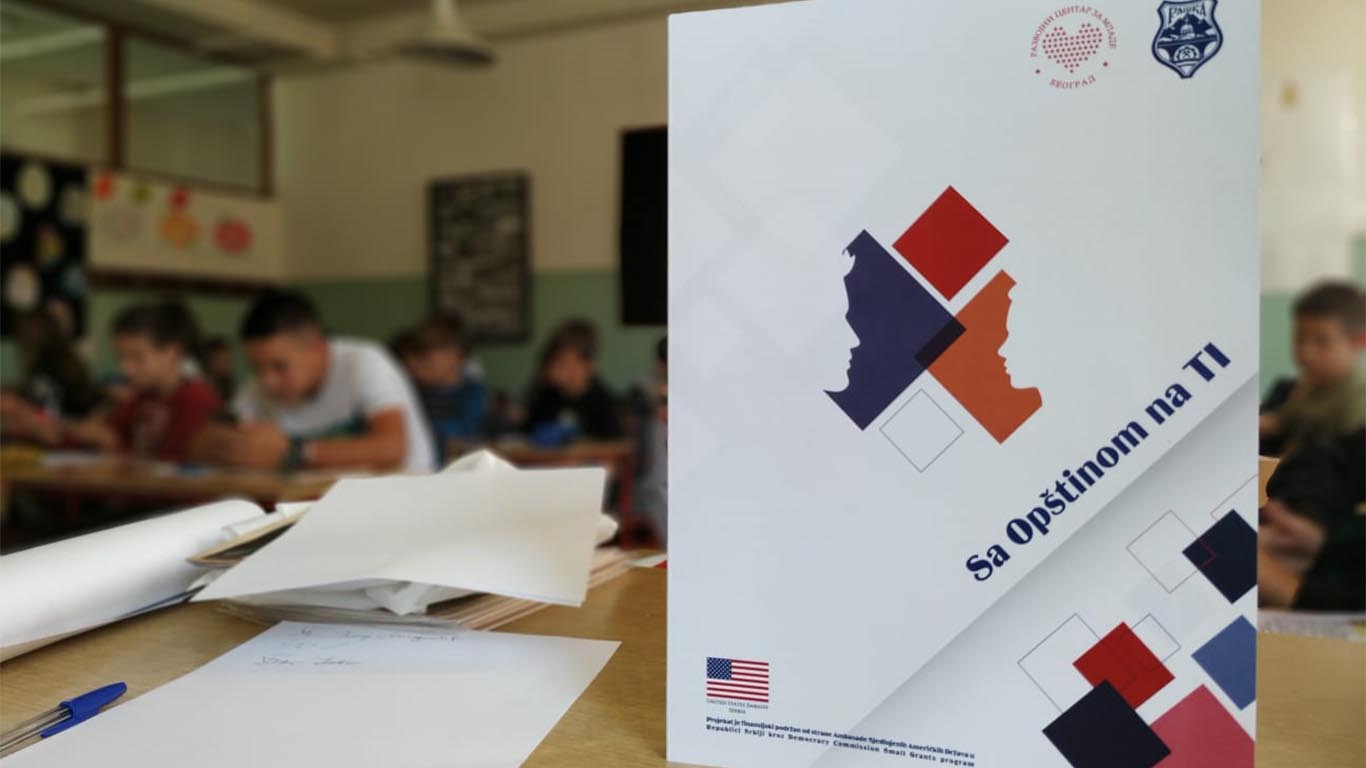 New activities in the municipality of Raška – "Ask Your Councilor"
As part of the project "Face to Face with Local Administration", youth of Raška Municipality had the opportunity to learn a lot of new and interesting information about the work of local administration in a direct conversation with the member of the Municipal Assembly Dragan Miladinović.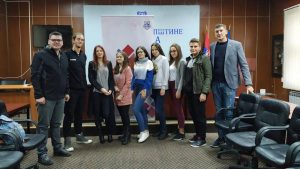 Namely, within the informative activity "Ask Your Councilor", the councilor Dragan Miladinović talked with youth about work of the Assembly and other local decision makers, as well as about the ways to engage themselves and make their proposals for a better life of local community.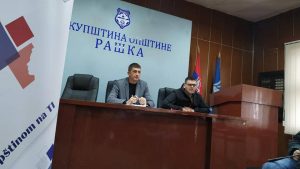 Interested students from "Kraljica Jelena" High School and Grammar School in Raška were able to ask whatever they were interested in – from methods of delegating what really matters to them as young people, till how to initiate or engage in various local activities.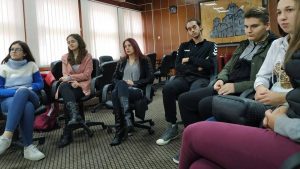 An extremely constructive and interactive discussion is the best indicator that young people respond positively to the open door of institutions and are interested in contributing to the improvement of life in local community. It is therefore concluded that this type of activity needs to be continued in the future, and that "Ask Your Councilor" format attracts a lot of young people's attention and shows them firsthand that institutions are really ready to hear and appreciate their opinions.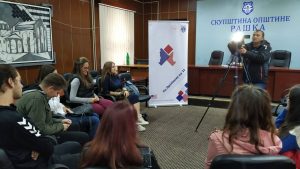 Three more workshops held in Elementary School Sutjeska Supnje
After the extremely positive reaction of children and young people to the introductory workshops within the project "Face to Face with Local Administration", project participant and experienced educator Nikola Mihajlović continued his educational activities at Sutjeska Elementary School in Supnje, Raška.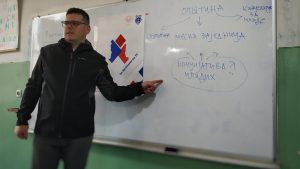 "The essence of our work is to use non-formal education, and in a youth-friendly and accessible way, explain to children and young people many things which are not taught directly in school and which are unknown to them, concerning different opportunities offered to them through the local community – from launching initiatives to traveling, study visits, local actions", Nikola Mihajlović shared with young people during the workshops.
Sixth, seventh and eighth grade students were interested in hearing something new and learning how the Municipality worked, but also how they themselves could launch a local initiative on their own. Proposals were numerous, but according to the age and interests of the participants, the largest number related to enrichment of sports content and reconstruction of the local playground.
Through conversations with young people, they have shown themselves to be motivated and enthusiastic, willing to contribute, but they have to be guided on how to become drivers of local action in their communities, in order to compensate the lack of alternatives in cultural, sporting and entertainment life, generally – the opportunities for quality spending of leisure time.
Participation at this series of workshops was optional, and we are extremely pleased with the response from children and young people who wanted to hear something new and become familiar with the topics we are dealing with through the project "Face to Face with Local Administration".
Undoubtedly, Development Center for Youth and the Municipality of Raška have found in Sutjeska Elementary School an adequate partner for all future activities aimed at creating active citizens interested in contributing to development of a local youth-friendly community.
With Raška high school students on local administration
Peer educator Veljko Avramović on Tuesday, November 5 held two workshops in a row for the first-year students of Raška Grammar School, introducing them to the topics of the project "Face to face with local administration".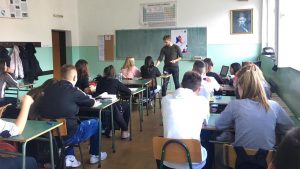 During extremely dynamic sessions, which included association games, a quiz on the work of local administration, as well as an evaluation of everything that young people could hear and methodological approach that evaluator applied, Veljko fully included participants in discussion and came to their opinion on what they saw as obstacles to more active participation in community life, but also how they saw a possible solution to this challenge.
Once again, it turns out that young people are full of ideas, but they should be encouraged and provided with enough space to share their ideas with local decision makers.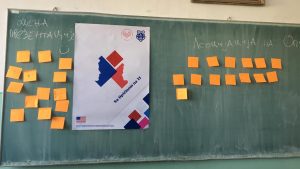 We hope to continue our active cooperation with Raška Grammar School, since the students responded positively both to the way they worked and the topics presented, and at this age it is of utmost importance to show them all mechanisms available in order to become active citizens.
New workshop in Primary school "Sutjeska"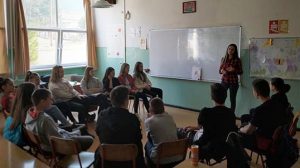 Realization of the project "Face to Face with Local Administration" has successfully continued in Primary school "Sutjeska" in Supnje with seventh and eighth grade pupils.
Peer educator Vanja Vukadinović, specialist for labor protection, has conducted very intensive and interesting lecture pointing out on important segments and details relevant for greater participation of youth in local community. In a creative way she transferred impressions from training held on Kopaonik and also knowledge gained there about mechanisms available to youth in Raška municipality. Focus was at public appearance of young people, as well as importance of adequate appearance in different occasions.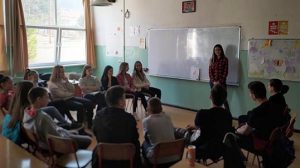 Pupils from seventh and eighth grade have showed great interest for the subject because there are not so many opportunities in which youth can inform about participation in the work of their municipality and in that manner contribute to the position of their group. Especially interesting to them was the opportunity to talk with a person close to their age so they were more relaxed in discussion and therefore the idea of peer education showed as right choice in approach to youth.
Management of the Primary school "Sutjeska" has supported this project from the very beginning so this is the continuation of good cooperation that we have.
Peer educators continue with their activities in Raška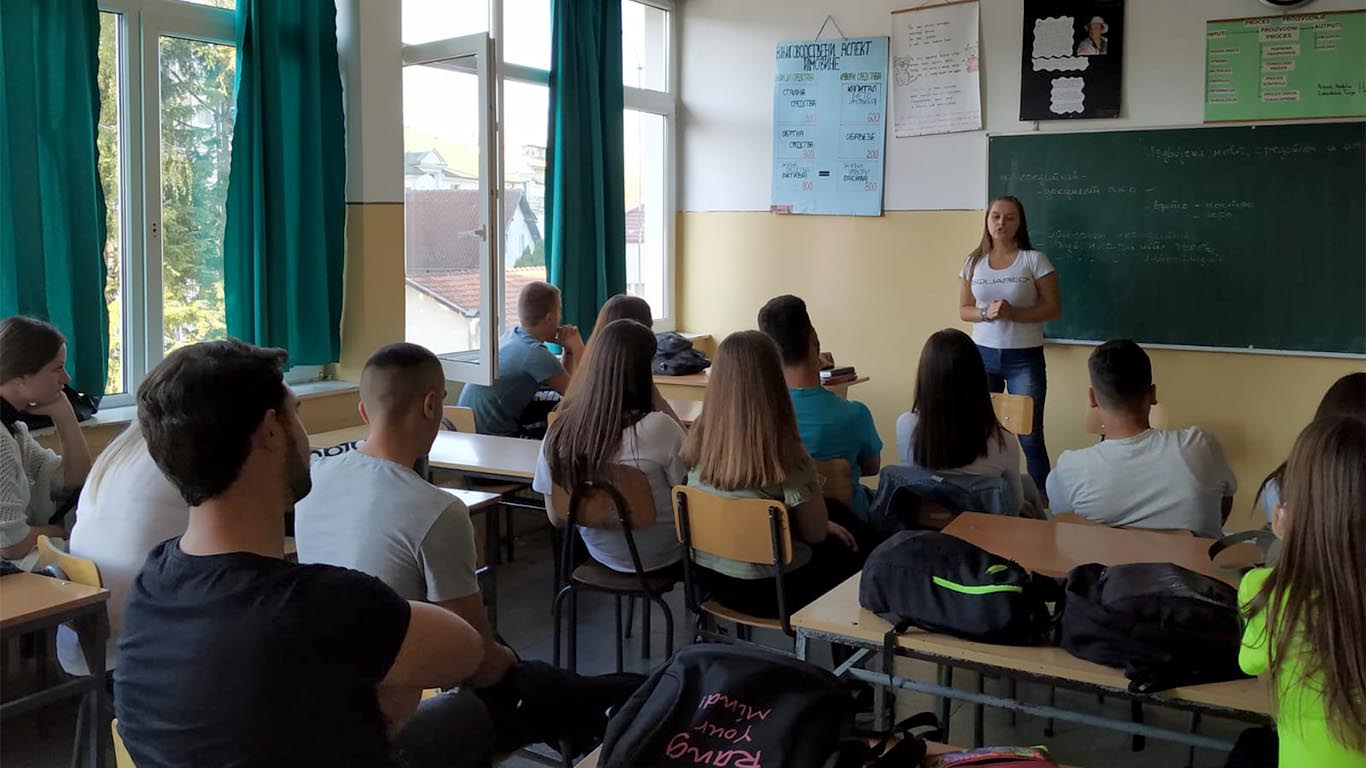 On October 24, high school students engaged in course: economic technician from Secondary School "Kraljica Jelena" were introduced to the significance and topics of the project "Face to Face with Local Administration". The role of peer educator was implemented by Jovana Veljović, who introduced the topic in a dynamic and original way, encouraging high school students to be more active in expressing their interests and needs before the local administration. During the workshop, participants were introduced to the functioning of local administration, as well as the possibilities of influencing it through petitions, advocacy campaigns, discussions with municipal councilors, participation in the work of the Youth Office, etc.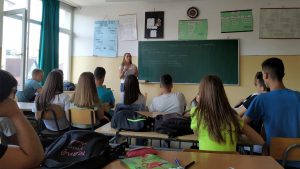 Through a series of examples, high school students were encouraged to influence the community and contribute to improvement of the content and offer relevant for young people. Organizers of the project, Development Center for Youth from Belgrade and the Municipality of Raška have used the opportunity to highlight the quality cooperation existing so far with the Secondary School "Kraljica jelena", which has always responded positively to all initiatives aimed at improving the position of young people in the municipality of Raška.
First in a series of peer workshops implemented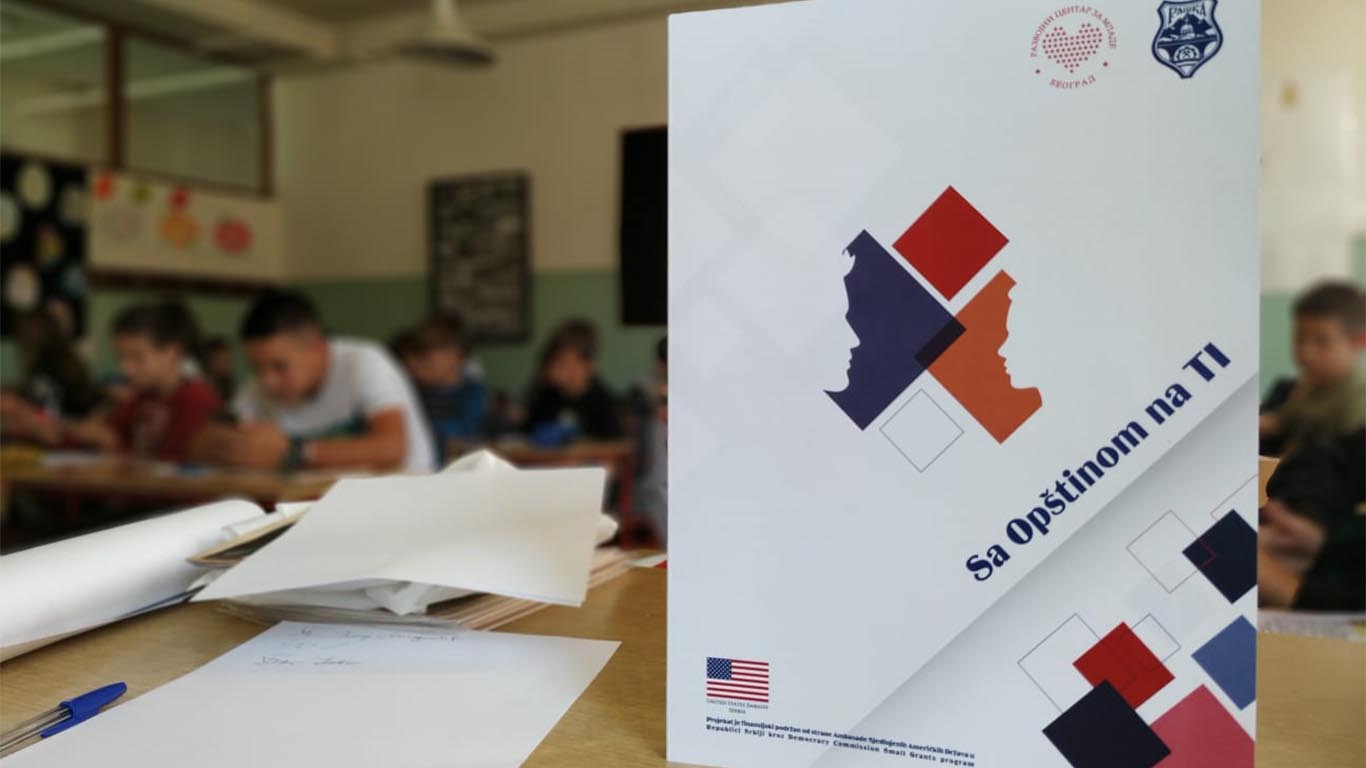 Nikola Mihajlović, participant of the project "Face to Face with Local Administration" held the first in a series of peer educations, selecting for the participants of his activity elementary school pupils from the elementary school "Sutjeska" Supnje. On that occasion, Nikola presented in a creative and dynamic way, using the knowledge and information from the initial training, the importance of the project and its activities to those who were present. For many of them it was the first time to get acquainted with the term "local administration" and Nikola sought to enrich his workshop with a number of concrete examples, in order to encourage young people to think about greater participation in the life of local community.
How to fight for your rights, solve a particular problem in the community, or take an initiative were just some of the questions that Nikola Mihajlović and workshop participants addressed during the class. In addition to introducing the topic among young people, it was also extremely positive that young people had shown an interest in learning more and, over time, becoming a more active part of the community.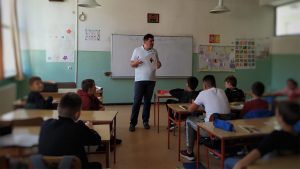 Development Center for Youth is especially pleased with the fact that the workshops started at the elementary school "Sutjeska", bearing in mind the cooperation and support we have received from its director, Mr. Mirko Puzović so far. His way of work is precisely aimed at creating active citizens from schoolchildren, motivating them to be involved in all local processes of relevance.